Outdoor Pendants
Our antique copper pendants are remarkably unique when used as outdoor light fixtures.
Mount them over an outdoor patio table on your backyard deck or install them over dining tables in your outdoor café to create a modern & nostalgic vibe. Our outdoor pendant light fixtures can also add an inviting feel to a porch entryway, provide stylish & functional lighting over an outdoor kitchen island, or strategically & beautifully light an outdoor breezeway.
Like our gas and electric lanterns, our electric light pendants are available in multiple sizes, finishes, and hanging types to fit the needs of your project. And if you're not sure which options work best for your needs, all you have to do is give us a call at 866-799-8443 to discuss the details of your project.
Installation Types for Our Outdoor Light Fixtures
How and where you mount your outdoor light fixture can make a tremendous difference in the overall look, feel, and curb appeal of your property.
Most of our outdoor lanterns offer these installation options:
Post Mount – Your lantern is mounted from a post or column. This can include a wooden or metal post planted directly into the ground, patio, or decking. This is also called a "column mount" if the lighting is affixed directly to a brick or stone column as part of a fence or wall. Post lights offer an excellent view of the illumination from all directions.
Wall Mount – Some of our lanterns mount directly to a wall or an exterior surface. This mounting is sometimes called "flush mount" and tends to favor traditional low-voltage electric power, as the temperature stays lower than with natural gas flame power.
Bracket Mount – Iron brackets are the easiest form of installation for our outdoor lanterns and possibly the most stylish. Standard mounting brackets suspend the lantern a few inches off of the mounting surface. Brackets are available in a variety of design types, from dressier scroll brackets to more modern clean line brackets.
Hanging Mount – Our outdoor lanterns and hanging lights can also be hung from the ceiling with the hanging mount option. You'll see this example with our Bourbon Street-style lanterns – and, like bracket mount, this option can be combined with dressier touches, like a yoke bracket or a ladder rack.
Many of our electric pendant light fixtures offer a few different hanging installation options, too, including:
Corded – This is a typical electric corded light and offers more flexibility in installation.
Brass Chain – A brass chain offers a little more durability than corded while still keeping flexibility in installation top of mind.
Steel Hard Stem – A steel hard stem offers a modern streamlined look for permanent and less flexible installation.
Additionally, some outdoor pendant models – like our popular small bell and large bell pendants – are only offered in the steel stem option.
Outdoor Lantern and Lighting Finish Options
With a Flambeaux outdoor lighting fixture, you are no longer limited to the standard colors of outdoor lighting – usually silver and black. You have a range of antiqued & bold colors at your fingertips. Choose your favorite!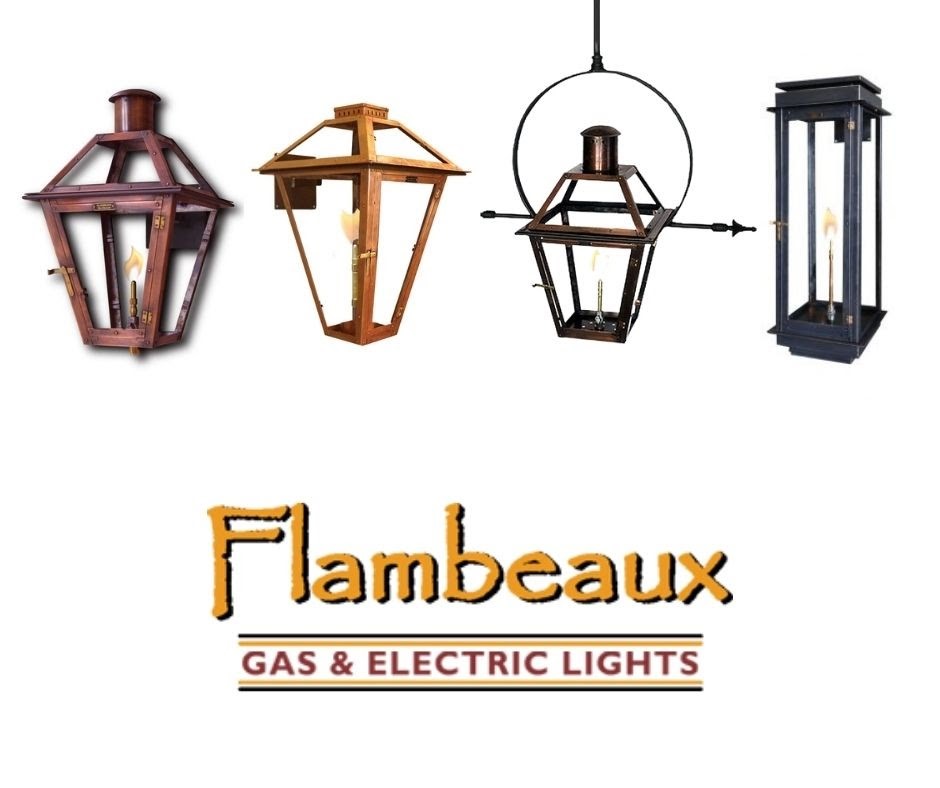 Our Signature Aged Copper Finish – Our antiqued tawny or russet-colored copper
Raw Copper Finish – A classic, shinier copper sheen
Dark Copper Finish – A bolder and deeper oil-rubbed bronze look that appears black-brown in various environments.
Stainless Steel – A corrosion resistant choice for less forgiving climates.
Green Patina – Our pendants offer this additional option of a natural green copper patina that adds rustic & antique personality to your fixture.
Learn much more about our oxidation finishes here.
With each of our copper finishes, you can expect your lantern or pendant to patina overtime. You may love this effect and want to keep it. A lot of our customers do! If you don't, that's OK! Polish your lantern or pendant regularly to keep it from developing a patina overtime.
Determining How Many Outdoor Light Fixtures You Need
Deciding just how many outdoor light fixtures you need can be a tough call. Depending on the type of outdoor setting you have, one or 2 strategically placed lights may do the job.
However, many homeowners or business-owners find that they'd like to use sets of 5, 10, or more (and different) fixtures to get the look they want. Much of this depends on the size of your landscape, the design of your home or business, your mounting or hanging options, your power options, and your budget.
We love working with our customers to provide outdoor lighting consultations for your outdoor space, working up designs you'll love, and building the products to make your design and vision come to life.
If you're interested in a consultation for your outdoor space or would like to discuss your exterior lighting needs, feel free to contact us anytime!
We're Here to Customize an Outdoor Lighting Solution for You
At Flambeaux Lighting, we're experts in lighting. We're here to work with you to customize an outdoor lighting solution for your needs and your budget. Our lanterns, pendants, and other outdoor lighting products are available in a variety of sizes, finishes, and designs. Plus, all of our products are designed and built right here in Southeastern Louisiana just outside New Orleans.
If you need help choosing products or have an idea for a custom lantern, give us a call at 866-799-8443, email us at [email protected], or contact us. We'd love to help!